Homes in Golden, Colorado
Golden is located just 15 minutes west of downtown Denver on the banks of Clear Creek and nestled between the foothills of the Rocky Mountains and two scenic mesas. The Golden City was the capital of the Colorado Territory in 1862. The beautiful town is a walkable paradise with more than 50 historic buildings, shops, restaurants, breweries, outdoor recreation, community events, and several parks.

Golden boasts 8,000 acres of open space and over 24 miles of trails for biking, hiking, and strolling. The Clear Creek Whitewater Rafting Park is one of the city's most popular attractions and was built strictly for recreational kayaking and canoeing in Clear Creek. The park itself has hosted several festivals and sporting events.

Golden is home to the Coors Brewing Company, the largest single-site brewery in the world and the second largest producing brewer in the U.S. People can once again enjoy guided tours of this facility following a two-year hiatus caused by the pandemic. There are also several craft breweries in the town.

Golden hosts a variety of annual events each year, including bike races, holiday celebrations, the Golden Farmers Market, the Golden Fine Arts Festival, a bluegrass music and beer festival, and the local favorite, Buffalo Bill Days.
List of Zipcodes
| Zip Code | Zip Code Name | Zip Code Population |
| --- | --- | --- |
| 80401 | Denver | 42,157 |
| 80402 | | |
| 80403 | | |
| 80419 | | |
Demographics
| | Zip Code | City | County | State | National |
| --- | --- | --- | --- | --- | --- |
| Population | 4,270 | 20,979 | 585,026 | 5,759,582 | 331,426,769 |
| Population Density | 49.4 | 2,136.9 | 765.5 | 55.5 | 93.8 |
| Percent Male | 49.0% | 56.0% | 50.0% | 49.0% | 49.0% |
| Percent Female | 51.0% | 44.0% | 50.0% | 51.0% | 51.0% |
| Median Age | 50.8 | 36.0 | 42.6 | 40.2 | 39.0 |
| People per Household | 2.6 | 2.2 | 2.47 | 2.8 | 2.6 |
| Median Household Income | $106,904 | $74,818 | $80,305 | $115,942 | $61,963 |
| Average Income per Capital | $52,013 | $41,846 | $42,520 | $50,725 | $33,235 |
Market Data
| | Zip Code | City | County | State | National |
| --- | --- | --- | --- | --- | --- |
| Median Sale Price | $725,000 | $575,090 | $475,000 | $425,100 | $277,796 |
| Median Age of Home | 37.0 | 35.0 | 53.0 | 39.0 | 49.0 |
| Homes Owned | 86.0% | 80.0% | 68.0% | 67.0% | 58.0% |
| Homes Rented | 10.0% | 17.0% | 28.0% | 23.0% | 31.0% |
| Homes Vacant | 5.0% | 3.0% | 5.0% | 4.0% | 11.0% |
Market Trend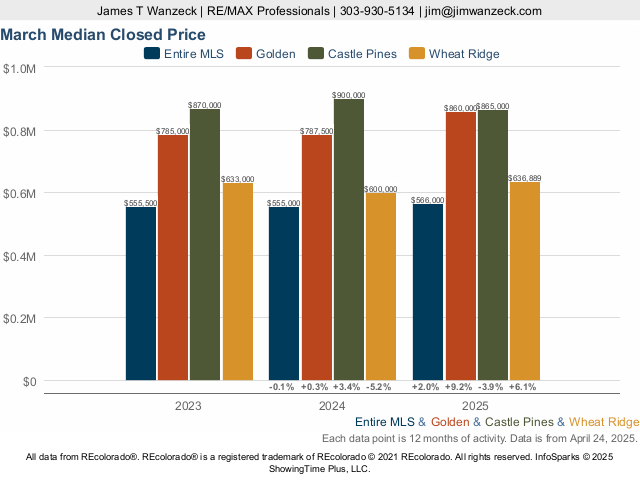 152 properties on market
Contact Us
RE/MAX Professionals
6020 Greenwood Plaza Boulevard
Greenwood Village, CO 80111, USA
Valuation Index
Quality of Life - 90%
Climate & Environment - 75%
Schools & Education - 73%
Safety & Crime - 17%
Quality of Life
| | Zip Code | City | County | State | National |
| --- | --- | --- | --- | --- | --- |
| Cost of Living Index | 110.0 | 119.0 | 97.0 | 110.0 | 100.0 |
| Health Cost Index | 121.0 | 127.0 | 108.0 | 119.0 | 100.0 |
| Commute Time | 25.0 | 24.0 | 26.0 | 25.0 | 24.8 |
| Commuting by Bus | 0% | 2.0% | 3.0% | 1.2% | 2.1% |
| Commuting by Carpool | 7.0% | 8.0% | 10.0% | 11.0% | 13.5% |
| Commuting by Auto | 76.0% | 84.0% | 82.0% | 80.0% | 79.1% |
| Working at Home | 16.0% | 6.0% | 5.0% | 5.2% | 4.7% |
Walk Score®
Climate & Environment
| | Zip Code | City | County | State | National |
| --- | --- | --- | --- | --- | --- |
| January Average Low Temperature | 13.6 °F | 14.3 °F | 12.7 °F | 13.7 °F | 22.6 °F |
| July Average High Temperature | 84.0 °F | 87.7 °F | 85.8 °F | 77.5 °F | 86.1 °F |
| Annual Precipitation (inch) | 17 in. | 18 in. | 17 in. | 19 in. | 38 in. |
Schools & Education
Safety & Crime
Zip Code
City
County
State
National

Violent Crimes

Calculated annually per 100,000 residents

Assault
162.9
156.9
255.9
246.3
250.2
Murder
2.2
2.2
2.8
3.8
5.0
Rape
70.4
66.3
68.3
67.2
42.6
Robbery
123.3
39.4
51.7
63.6
81.6

Property Crimes

Calculated annually per 100,000 residents

Burglary
223.7
191.6
425.3
348.4
340.5
Theft
360.4
438.8
641.0
1,858.3
1,549.5
Motor Vehicle Theft
603.0
602.5
125.9
384.0
219.9
Take a photo of this QR code
to keep this website details